The new German government is complete. After the Greens, on November 25, the Liberals (FDP) and Social Democrats (SPD) in turn gave the names of their ministers, Sunday 5 and Monday 6 December, before the team was officially invested, Wednesday December 8, after the election of Olaf Scholz as chancellor by the deputies of the Bundestag.
As the latter had undertaken to do, the team, made up of sixteen full-service ministers in addition to the chancellor, is made up of as many men as women. The three components of the « tricolor coalition » do not, however, contribute in the same way to parity: while four of the eight SPD ministers are women, the FDP has entrusted only one of its three portfolios to a woman (Bettina Stark-Watzinger, Education and Research). Environmentalists, on the other hand, have more women (3) than men among their ministers (2).
Among them, the former Greens candidate for chancellery, Annalena Baerbock, will be the first woman to lead German diplomacy. At 40, she is also the youngest in government, a title she shares with her environmental colleague Anne Spiegel (named in the family), born like her on December 15, 1980. At 63, Olaf Scholz is the most age.
Read also
Germany: Olaf Scholz elected chancellor by the Bundestag
As was the case with Angela Merkel's last government, ministers who grew up in East Germany before reunification are slightly under-represented there: out of sixteen, there are only two (the social democrat Klara Geywitz , in charge of housing, and ecologist Steffi Lemke, for the environment), which does not quite correspond to the demographic weight of the "new Länder", where 15% of the country's population live.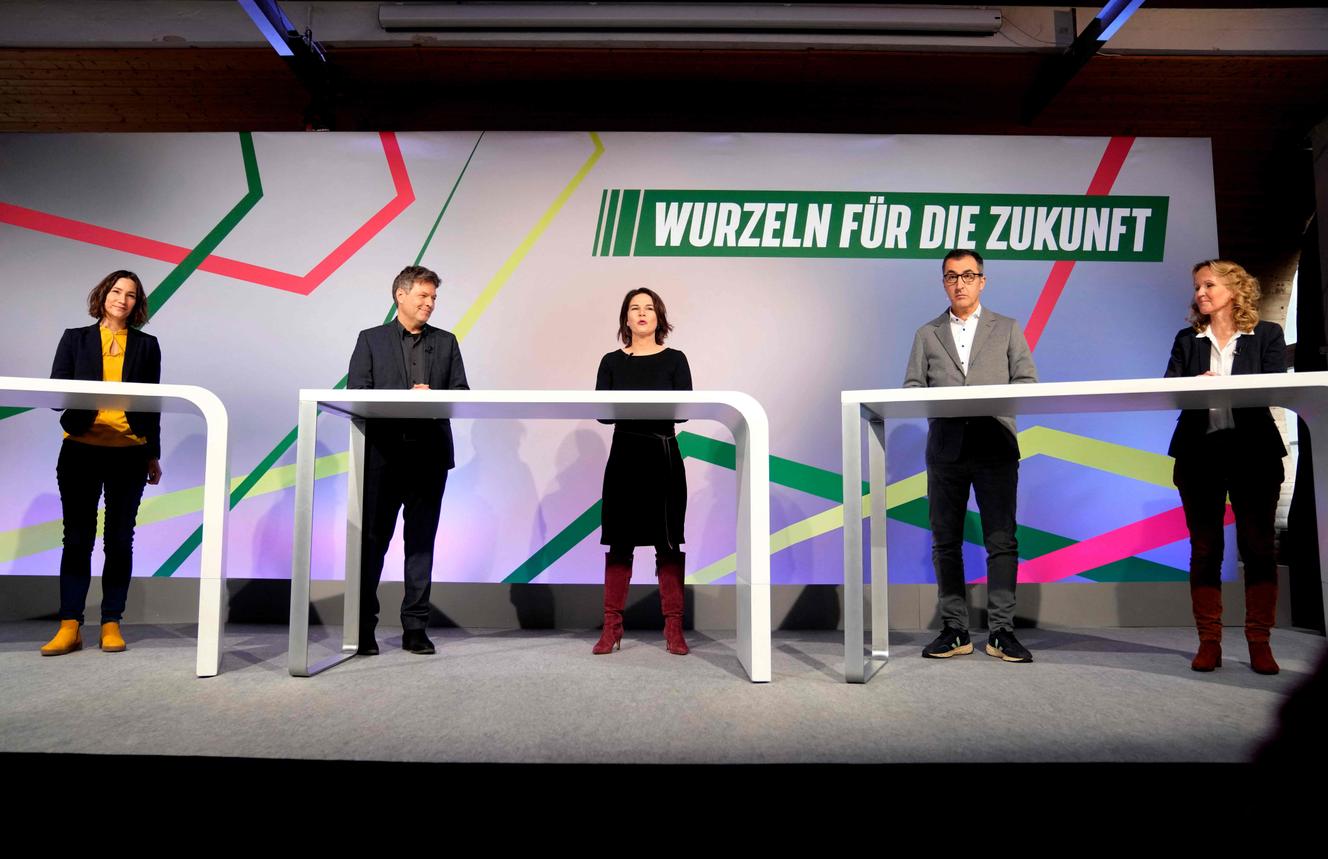 Within the team, several personalities stand out. Starting with Christian Lindner and Robert Habeck. Respectively presidents of the FDP and the Greens, they will occupy the two most strategic portfolios: that of finance for Mr. Lindner, 42, and that of the economy and climate for Mr. Habeck, 52, who also inherits the title. – honorary – of vice-chancellor.
« Money or climate »
Main heavyweights of the government after Olaf Scholz, the two men could quickly enter into rivalry, as each plays its credibility vis-à-vis its own party: the first as guardian of the budgetary orthodoxy dear to the liberals, the second as guarantor ambitious objectives of a coalition which promises in particular to « Ideally » coal in 2030 (instead of 2038). « Money or climate: there can only be one », titled it Spiegel, whose November 27 issue featured the faces of the two men on the cover, like two duelists ready to do battle.
You have 51.14% of this article to read. The rest is for subscribers only.
Toutes les actualités du site n'expriment pas le point de vue du site, mais nous transmettons cette actualité automatiquement et la traduisons grâce à une technologie programmatique sur le site et non à partir d'un éditeur humain.